For the purpose of optimizing and improving the HR Management of its client companies, ETL GLOBAL offers professional, specialized support as an external HR service provider to those who do not have an HR department of their own, and assistance with all tasks and projects the client company wishes to perform requiring specific expertise to those who do have an HR department of their own.
We are convinced that the application of specific techniques for the development of human resources is crucial to avoid a large part of individual or collective conflicts within the company.
A proper selection process, a warm reception and integration as well as the implementation of wage policies, the training of staff and the adaptation to constant changes prompted by the market contribute to social peace and a positive social environment and, thus, to a smooth running of the company and the achievement of the targets set by its management.
Consultancy and support of German enterprises established in both Germany and Spain in searching and selecting multilingual specialists and managers, in the following key areas: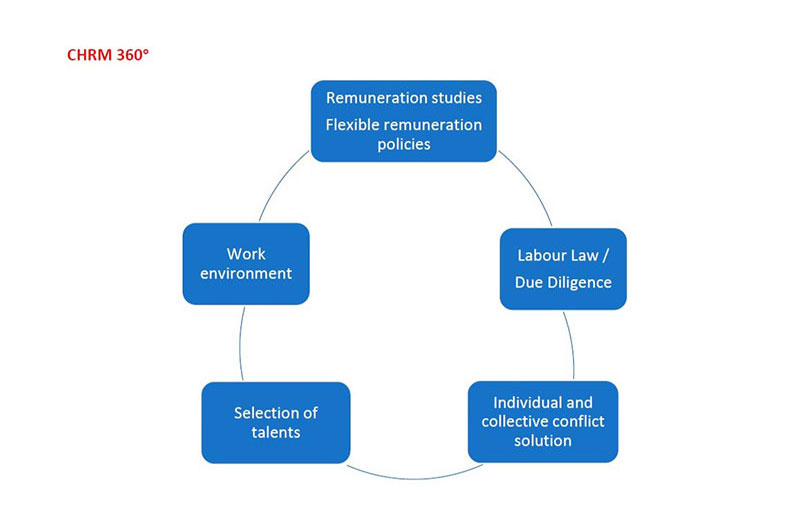 Headhunting
We search, identify and select suitable candidates according to the profile required by our client company. Selection of multilingual specialists and managers by active search.
Due Diligence Labour Law
To know whether your own company or the one you might wish to acquire by purchase or merger complies with all labour market regulations.
Labour climate studies – Mediation of labour conflicts
To identify any improvable operating area in your company, also regarding employee satisfaction on different issues: the remuneration paid, the physical conditions of their work environment, employment stability, relationship with colleagues, support and
respect from their superiors, the necessary recognition by others, and personal development chances.
Remuneration studies
Implementation of salary bands pursuant to professional levels and creation of flexible remuneration policies on an individual goal-driven basis with the aim of attracting and retaining talent in the company.
General guidance
From (personalized) coaching to legal advice – we offer you a 360o service in human resources matters.
Riera Principal 8,  08328 Alella, Barcelona
C/Goya, 15 – 6º planta,  28001 Madrid 
Read more about GDPR compliance
Responsible party: ETL Steuerberatung Spain
Purpose: Collection of personal data to meet your request
Legitimation: Consent of the interested party
Recipients: No data will be transferred to third parties, except legal obligation
Rights: Access, rectify or delete the data, as well as other rights, as explained in the additional information.